Updates : TheStar Metro

Bloggers Buff 2007 is a workshop cum forum organized to gather Malaysian bloggers from different genres together to network and explore various issues and aspects of blogging. It is open to all Malaysian bloggers and about 60 places are available. Registration is through pre-registration in the website and a meagre free of RM 5 will be charged that can be paid on the day of the event. Lunch and tea breaks are served. So, make sure that you don't miss this great oppurtunity and kindly register yourself before Thursday, 5th July 2007. Check out the details below:
Objectives of Bloggers Buff include:
* To create a good network of Malaysian bloggers of different genres.
* To alienate fears and negative perception of blogs in mainstream print media.
* To promote blogging as a hobby and as a potential income generator.
* To promote blogging as a medium to exchange information.

***************
Topics and issues to be covered:

***************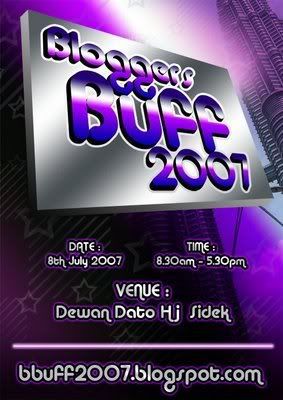 Speakers:


***************
1 comments to "Bloggers Buff 2007"
Blog Archive